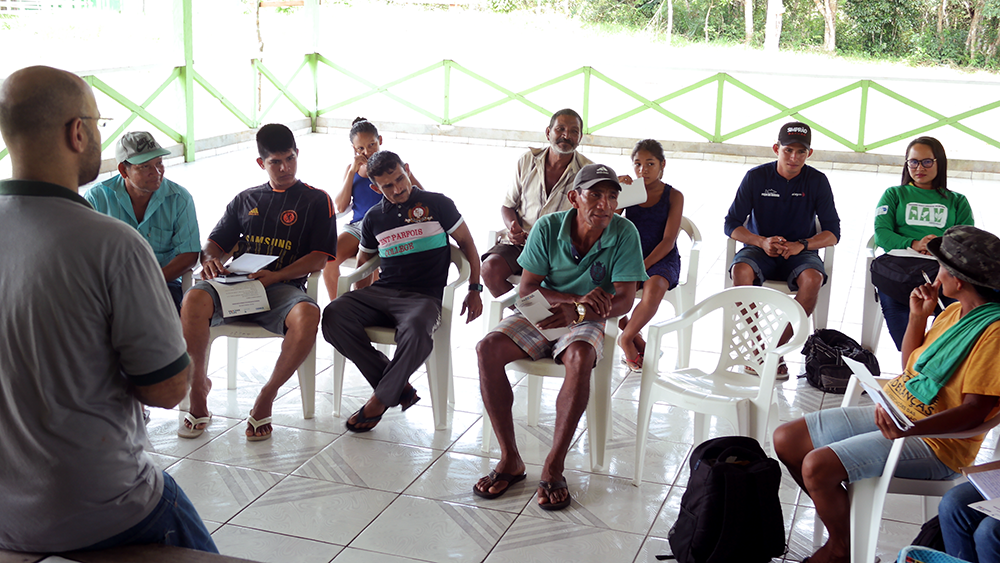 Manejadores se unem para fortalecer atividade florestal na RDS do Uatumã
A group of community members from the reserve got together to align the goals of the 'Cidades Florestais' project; the next step will be identifying the region's timber potential
By Henrique Saunier
Translated by Felipe Sá
Idesam's Cidades Florestais project moved another step forward with the establishment of a forest managers group that will be responsible for guiding the forestry management of the Uatumã Sustainable Development Reserve (RDS, in Portuguese) Residents' Association. The group was created during a meeting in early May, and the next step is to identify areas for the implementation of the forestry management plans.
Forest Cities is a project carried out by Idesam with funding from the Amazon Fund which aims to promote the multiple use of the forest through the encouragement of forestry management and support to community production. Besides the creation of the group with specific objectives and rules, the last meeting discussed the stages of forest management, and the rights and duties of its members.
Now, the members of the group should check the timber potential of the area where the three forestry management plans are intended to be installed. One of the obligations of the members is to participate in the courses of management methods and also to participate in all the activities of the process.
A group organization meeting will be held per harvest in order to establish the coordinator of each stage of the management to be implemented, set the number of people required for each stage, evaluate the costs and the way to pay for each step. The producers themselves will define how to share profit and debts.
This was the third meeting held at the Uatumã RDS with the producers who will be working on the project. After evaluating the areas that should receive the management plans, trainings to increase the group's capacities will be initiated.
"In previous experiences with management plans in the RDS it was possible to explore from 15m³ to 18m³ per hectare. The evaluation to be carried out will verify the existence of species with high market value, such as Ipê and Itaúba", project manager André Vianna explains.
Currently, 10 people integrate the group of managers, including residents of the communities São Francisco do Caribi, Santa Luzia do Caranatuba, Bela Vista and Bom Jesus. There are still 10 vacancies for the communities of Abacate, Nossa Senhora do Livramento, Bom Jesus, Maanaim and Maracarana.