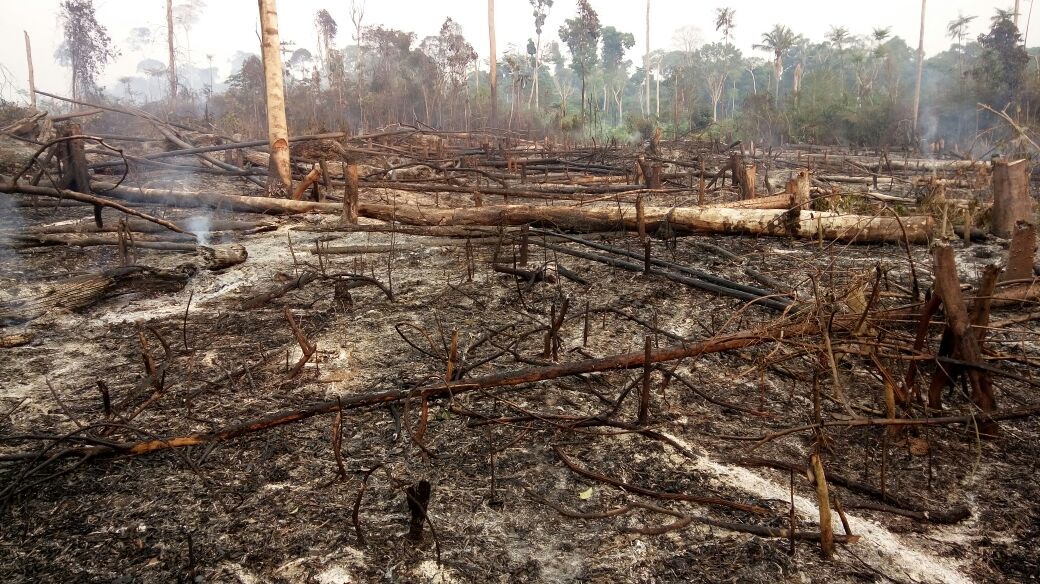 Em quatro meses, Terras Indígenas somam desmatamento superior a 300 campos de futebol
The third edition of the bulletin is already available on Idesam's website and it indicates deforestation spots within the Indigenous Lands that make up the corridor
By Henrique Saunier
Edited by Samuel Simões Neto
Translated by Felipe Sá
Only in the first four months of 2018, deforestation in the Tupi-Mondé corridor has already reached a level equivalent to 378 soccer fields: 269.7 hectares between January and April. Considering all the monitoring carried out since January 2017, 2,500 hectares of forest was devastated.
Click here to access the bulletin (portuguese only)
Even though the deforestation rates from January to April 2018 present a retraction in relation to the same period in 2017, researchers say that the deforestation that took place could be even greater, since new cleared areas might have not been identified due to intense cloud coverage.
In total, 3,595 satellite deforestation alerts were detected by the GLAD system from the Global Forest Watch (GFW) platform.
The Tupi-Mondé Corridor covers an area of 3.5 million hectares, located on the border of the states of Rondônia and Mato Grosso. The corridor is currently one of the regions under the greatest deforestation pressure in the Amazon. To the organizations that sign the deforestation bulletin, the Indigenous Lands are affected by the forest loss not only due to the fragmentation of a large forest corridor, but also because it becomes a major threat to the traditional culture and way of life of 6,000 indigenous people from the Cinta Larga, Zoró, Paiter Suruí, Arara and Gavião.
Illegal logging, the use of fires to introduce pastures, irregular invasions and mining activities were identified as the main deforestation vectors. "Wood is a common vector to all seven Indigenous Lands from the Tupi-Mondé Corridor", says Pedro Soares, Idesam's Climate Change Manager.
In a statement released in the report, the leader of the Gavião indigenous people, Josias Gavião, says that the pressure for deforestation is increasing due to the expansion of economic activities linked to livestock within the Indigenous Land. According to him: "A long road has yet to be traveled to promote sustainable development in these territories".
Ivaneide Bandeira, coordinator of Kanindé and one of the collaborators in the production of the bulletin, highlights that the entity develops protection actions in the territory, always trying to make the damage caused to the indigenous lands visible through monitoring.
"The goal of this type of alert is to promote changes in the behavior of those who have the duty to protect, as well as the judiciary, which can end impunity for criminal acts", she says.