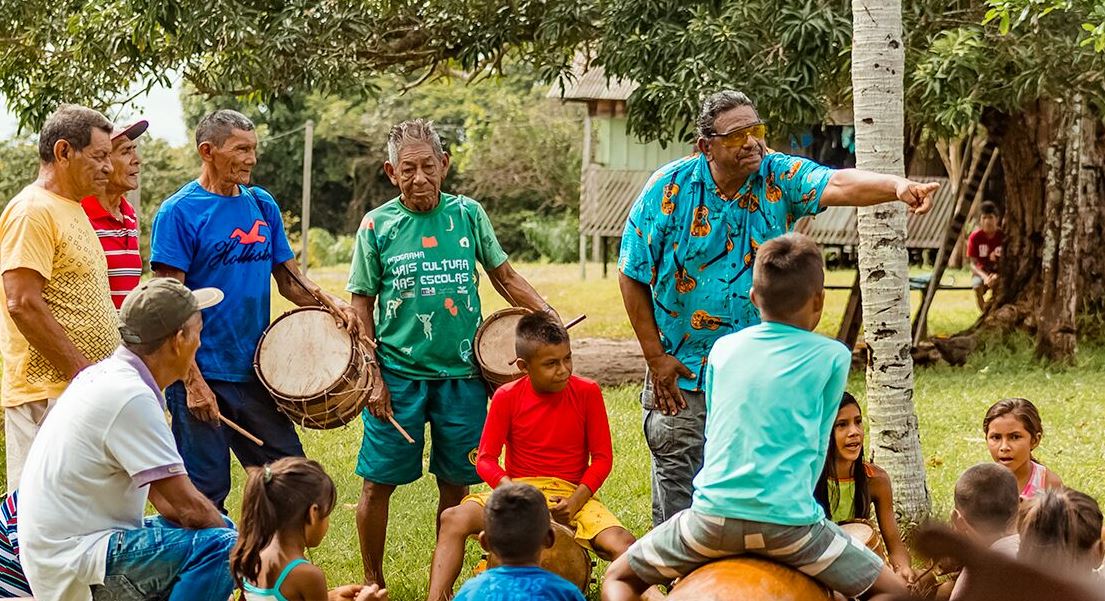 Evento 'Tamboreando Cultura' reúne manifestações culturais de Maués
Idesam's Communication
Translated by Fernanda Barbosa and Felipe Sá
This weekend (March 16th and 18th 2018), the first activity of the Maués Guaraná Alliance's Sociocultural Production Working Group (WG) took place as the first exchange between 'gambá masters' and other traditional manifestations from Maués (AM), in the community of São José do Paricá, located by the Paricá River, an affluent of the Urupadi River.
The Gambazeira manifestation belongs to a set of secular practices of local cultural expression originated from the fusion of European, African and Indigenous cultures during Brazil's colonization, creating a set of rituals that follows the songs sang to the sound of rustic musical instruments like the gambá (hollowed-out drum with leather at one end), tamborinho, caracaxá and others, made and played by groups of elders who present stories about the riverside reality in the land of the guaraná. These "gambazeiro masters" make Maués one of the last strongholds of Gambá.
In general, the event celebrated Saint Joseph, the patron of the community, in an old-fashioned way that wasn't conducted in decades. This includes the rituals of arrival of the boats and general representation in the church with ladainhas and prayers by the masters, creating a party of union and happiness among all those present, as one of the community leaders Adeilson de Souza "Dedeco" said.
The event was an initiative of the community itself with the support of the Maués Guaraná Alliance, the Sociocultural Production WG members and partners, such as Ponto Cultuam, Pingo de Luz groups, Caminhando com Jesus, Tambores da Floresta, Ambev, USAID, IDESAM , Mama Ekos, IFAM and others, including more than 10 masters of the region and more than 8 communities.
The main objective of the meeting is to strengthen, value and disseminate the popular culture of the municipality of Maués. Traditional cultural manifestations suffer great pressure from external agents in the mass media; the few that resist are restricted to small groups and presented in isolation. It is a great loss of local knowledge and identity.
"In contrast to this reality, the meetings promote exchanges between the current dormant masters, valuing and reviving the culture, disseminating the knowledge to children and young people, in the form of games and exchange circles of knowledge", explains Eric Brosler, local coordinator of the Alliance.